The following is an extract from the web archive showing the original book ordering page:
---
REAL BOOKS
Mungo vs. Ranger #3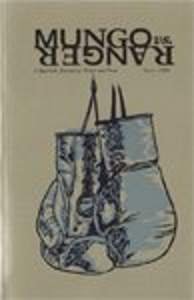 Our new FALL 1999 issue features all work displayed on this site plus: additional poems by BILL SCHEFFEL, LISA BIRMAN and KEVIN KILLIAN; a full section of poetry by CEDAR SIGO (roughly 20 pages and a dozen poems' worth); poetry by returning contributors TSERING WANGMO DHOMPA, JACK GREENE, LISA MILLER, JENI OLIN, DORIS PAI, MICHAEL PRICE, and MICHAEL ROTHENBERG, as well as new contributors BETSY FAGIN, STEFANI BARBER, DONALD GURAVICH, DAVID MICHAEL MCNAMARA, HOA NGUYEN, SEAMUS P. O'CUINN, JOHN PHILLIPS, PATRICK PRITCHETT and ROGER SNELL; poetry translations from French and Haitian Creole by JACK HIRSCHMAN; fiction by LISA TRANK; and a short essay by poet and translator ANDREW SCHELLING. Perfect-bound with a three-color, hand-letterpressed cover, 123 pages. Price: $5.00 (newsstand $6.00).
Mungo vs Ranger Issue 1 cover
Mungo vs. Ranger #1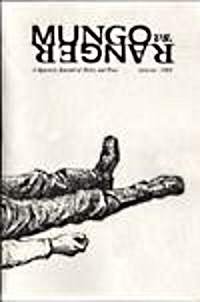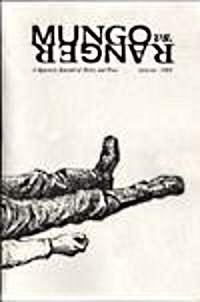 Copies of our SPRING 1999 debut issue are still available. Featuring work by BOB ARNOLD, CHRIS BEVENS, TSERING WANGMO DHOMPA, JACK GREENE, RACHEL LEVITSKY, JEREMIAH MCNICHOLS, LISA MILLER, JENI OLIN, KEVIN OPSTEDAL, DORIS PAI, DIANA RICKARD, MICHAEL ROTHENBERG, BILL SCHEFFEL, ANDREW SCHELLING, CEDAR SIGO, DALE SMITH, MICHAEL SMOLER, ROGER SNELL, LISA TRANK, and JERRY TUMLINSON, with featured Louisiana poet STEPHANIE WILLIAMS (who merited 20 pages of poems and short stories plus an interview) and reviews of MICHAEL PRICE's DOOMBOOK and DUNCAN MCNAUGHTON's Kicking the Feather. Perfect-bound, 93 pages, wraparound cover image. Selected as )ISM('s featured zine for the month of June (www.poetryism.com). From a press run of 300, it's no surprise we're down to our last twenty-five. Price: $5.00 (newsstand $6.00)
The City Speaks
Four stories by author and MVSR co-editor JEREMIAH MCNICHOLS: "The City Speaks," "Composition for Voice and Instrument," "Money is a Muscle: Or, The Imaginary Child" and "The Fall," handsomely illustrated in pen and ink by the author's brother and co-publisher at Castor/Pollux Press, JOSHUA MCNICHOLS. Saddle-stitched, 52 pages. Price: $3 ($4 in stores and damned hard to find).

"fire"
Conversational interviews conducted by writer and Castor/Pollux co-publisher JOSHUA MCNICHOLS with members of a family whose matriarch spent a lifetime obsessed with fire. Captivating, colloquial and sincere, FIRE investigates the roots and effects of such an obsession, with an artist's appreciation of nuance, understatement, and symbol. Illustrated with brush and ink by the author's brother, JEREMIAH MCNICHOLS. Saddle-stitched, 56 pages. Price: $4 (no longer available in stores).
REAL BROADSIDES
"The Flame Stain"
Hand-letterpressed on a Vandercook SP4, this 11″ x 4.25″, 4-paneled broadside (11″ x 17″ unfolded) was designed and printed by co-editor ROGER SNELL to commemorate poet CEDAR SIGO's appearance in the Featured Writer slot for our Fall issue. Red and black ink on heavy gray paper with protective orange glassine sleeve. Signed by the author. Out of a run of 100, less than ten remain. Price: $12.
Bill Scheffel's "At the UC Art Exhibit"
Bill Scheffel's poem from MVSR #3 (in this online issue). Hand-letterpressed, 13 1/2″ x 7 1/2″, tan and black ink on heavy beige paper. Price: $3.
2 Poems by Hoa Nguyen
"[Roll in your skull gone green]" and "[Love is a purple angel]". Two panels, hand-letterpressed, hand-sewn, 5 1/2″ x 7 1/2″. Purple, green and black ink on cream paper with vellum cover. Price: $6.

Rachel Levitsky's "Coney Island"
8 1/2″ x 11 on light (20 lb.) beige paper in black ink with green and purple inked background. Price: $3. The Scheffel, Nguyen and Levitsky broadsides can be purchased as a package for $10.
---
To order any of the above items, send a check made out to JEREMIAH XXXXXX to: 632 Lyon St., San Francisco, CA 94117. Send cash at your own risk. Include $1 postage for one item, $2 for up to four items, and $1 for each additional item if you go over four. A basic four-issue subscription to Mungo vs. Ranger is available for $20; for other subscription options, see our WHAT WE DO section.